Pioneer Tank and Vessel
Fabricating the finest American-made Brewery systems
Pioneer Tank and Vessel is more than just another fabrication shop. We pride ourselves in building high-quality brewery tanks in the heart of Craft Beer Country - Portland, Oregon.
We value our relationships with our customers and cater to their specific needs. Your beer is custom, and your tanks should be custom too.
So browse our products, give us a call, or stop by our fabrication shop. Let's build a future together, tank-by-tank.

Start your dream brewery now:
December 28, 2018
Three cellar tanks are going to Georgia today. Two fermentation vessels and a unitank to our friends at Southern Philosophy Brewing. Enjoy them guys.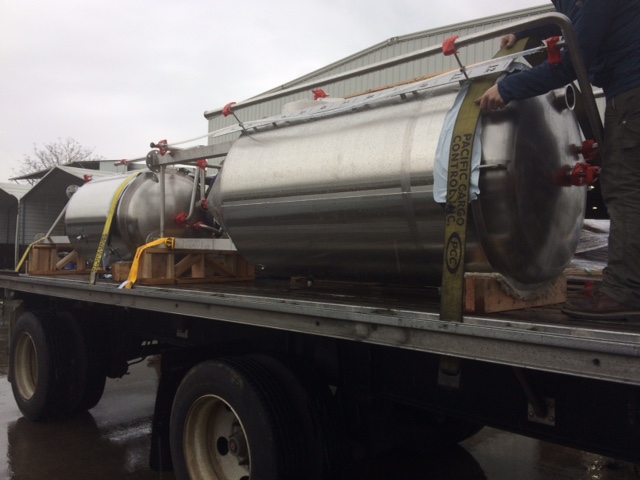 september 20, 2018
Two more tanks are headed to Oklahoma tomorrow!
We built a 30 bbl fermenter and 40 bbl hot liquor tank for our friends at Cabin Boys Brewery. We previously worked with Cabin Boys and built them a custom 10 bbl brewhouse and cellar tanks.
September 16, 2018
We are working on another copper tank for McMenamins! The majority of tanks we build are fabricated with stainless steel. Copper tanks require different gas, filler rod, and procedure for welding. Check out the picture below of Chex adding a manway to the tank.
August 7,2018
Today we installed an 80 BBL brite tank at Bauman's Cider Company! Bauman's Farm is located in Gervais, Oregon. We are excited to have our tank at a local Oregon company! Cheers to cider and drinking local!
june 13, 2018
This 10BBL brewhouse made it all the way to Lake Placid, New York for Ray Brook Brewhouse.
April 11, 2018
Another brewhouse out the door!
This 15BBL brewhouse shipped out to Lewiston, Montana today and will find it's home at Big Spring Brewing.
Location
Pioneer Tank & Vessel
121 NE Middlefield Rd.
Portland, OR 97211